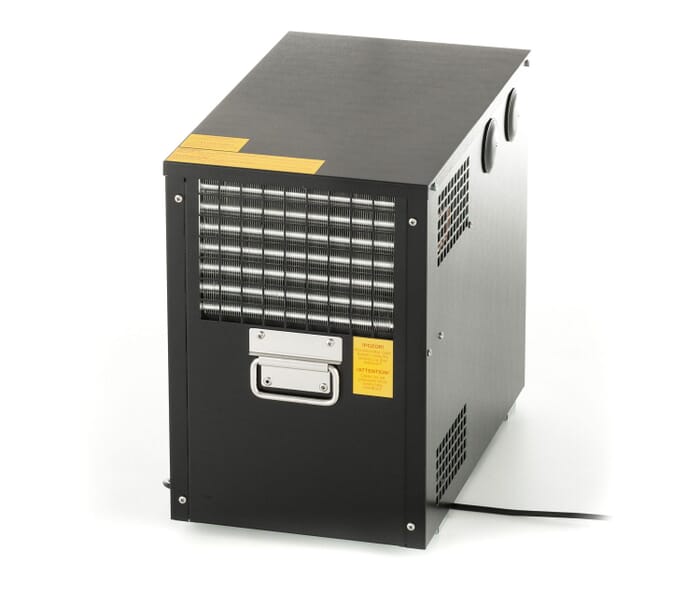 Beer Dispenser, wet cooler - under-counter AS-40, 2 lines, Green line

Power: 40 L / h at 10 ° C td

The modern and robust design ensures long life and easy transport

8 - 10 min ready for use

Two cooling loops (8m long)

Cooling technology is by 45% more efficient

Green line - the environment
- with accompanying cooling
- 1 / 6th Hp
- 230V, 50Hz, 292Watt
- Water: 14 liters
Important new model
powerful - new compressor
efficient - 15% more performance
environmentally friendly - certified refrigerant R290
Meets EU regulation 2021
Dimensions: 440 x 270 x 395mm (WxHxD)
Weight: 18.8 kg
Zweileitiges under-counter unit with wet cooling
This dispenser demonstrates to perfection that even a wet cooler with two beer lines can Have More compact dimensions. Because
with a width of just 44 centimeters and a height of 27 centimeters fits the wet cooler - under-counter, UTWK - AS-40, 2 lines - beer dispenser easily under any desk
With the right dispensing taps from our range. is available so quickly generates
powerful dispenser available that you take away on the counter and no place
always ensures reliable dispensing.
perfect Zapf results of two lines
The zweileitige beer dispenser AS-40 is equipped with two cooling loops with a length of eight meters
. This will allow you if necessary at the same time pour out two different
beers and so the different preferences of your guests will
justice.
The integrated water tank with a capacity of 14 liters ensures that the
has wet cooler via a high cooling capacity per hour to ice cold to 40 liters of beer
can flow out of your taps.
Let your guests do not wait for their cold beer
The dispensing system is ready, despite wet cooling after only eight to ten minutes. Thus
you are well prepared with the under-counter unit to impress without long waits with
perfect Zapf results
your guests from the delicious taste and the perfect froth of freshly tapped beer
from this wet cooler - Undercounter , UTWK - be amazed AS-40, 2-leitigen beer dispenser
We supply you with the Accessory immediately
Buy the under-counter unit with wet cooling in our shop and order the
for the operation required accessories such as: beer hoses and taps the same time. On
this way you manage to connect the dispenser wet cooler - under-counter, UTWK - AS-40, 2 lines in no time and you can tap into your already
first beers soon
| | |
| --- | --- |
| Item ID | 452453 |
| Condition | New |
| Manufacturer | ich-zapfe |
| Manufacturing country | Germany |
| Content | 1 piece |
| Weight | 18000 g |
| Dimensions | 440×270×395mm |
Beer Dispenser, AS-40, 2-lines- continuous cooler, wet cooler - Green Line
---
Ready to be delivered within 24 hours!
---
Fast delivery We deliver fast. With DHL your package will be with you in a short time!
Top Quality Highest quality products from world leading manufacturers!
Happy Customers More than 90% of our customers are satisfied & recommend us to others.
Sicherheit Sicheres Online-Shopping mit SSL-Zertifikat.